These days people view websites on all sorts of devices. They are calling it the Post PC Era.  From the desktop, to tablets and mobile devices.
Aquarius Designs will make sure your current website is built with best practices in mind and that all those looking at it – see it the way it was built to look.
Responsive Web Design (RWD)
The official definition is: a Web design approach aimed at crafting sites to provide an optimal viewing experience—easy reading and navigation with a minimum of resizing, panning, and scrolling—across a wide range of devices (from mobile phones to desktop computer monitors).Making sure along the way that anyone that tries to view your website sees it the way it is supposed to look.
—Wikipedia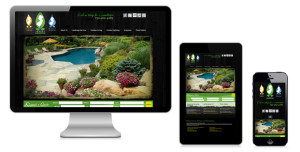 There are ways to make sure sites come up faster, all images are visible and more. As well as making sure every page looks as it is intended and on all mobile devices.  Aquarius Designs will work with you to either build you a new website that works in all these areas or we will work with your existing website and make sure its viewed the way it should.
Contact us today for a FREE review of your current website or get a price quote for your current site, please fill out our form.