If your business sells products or services, you need an eCommerce website. Period.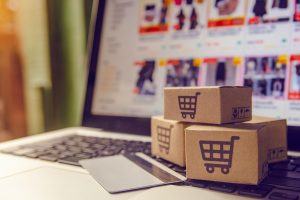 Consumers are shopping online more than ever before, and they're going to stay there for the foreseeable future. Whether you have a physical store or you're starting an online business, Aquarius Designs will help you create an amazing online shopping experience that increases sales—and your customer base.
Turn Website Visitors into Buyers
Consider your eCommerce website your digital storefront. More than just sell items online, you need to entice visitors to enter, then provide a shopping experience that's easy and convenient, so they stick around (and come back!). This is where Aquarius shines.
With over 25 years of experience, we've designed and developed countless eCommerce sites that convert visitors into buyers and build brand loyalty. We work with all the major eCommerce platforms, including WooCommerce, Shopify, BigCommerce, and 3DCart. Seamlessly integrated with your current business workflow and customized to your needs, your 24/7 sales solution will be:
100% Responsive: to work consistently on any mobile or desktop device
Content-Rich: with engaging content and product descriptions that drive organic traffic
SEO-Ready: so that users find you no matter where in the world they're located
It Starts with a Plan
First, we'll meet to discuss your goals for your eCommerce store. This will give us a full understanding of your operational needs, marketing plans, sales goals, and vision for your growth to deliver a creative, custom solution that ensures success.
Collaborative Design and Development
Once we're clear on your business's objectives, our team will work with you to create frontend visuals that reflect your brand. You can leave the backend logistics to us or we'll happily advise your team. Throughout the process, we'll maintain constant communication and consistent support.
Let's Launch
When your eCommerce website looks and performs exactly as you expect, it's go-time! You'll have our guidance, support, and feedback from the moment it goes live until well after you've started reaching your conversation goals.
Ready to get started?
If you're starting an online business or you want to deliver a seamless offline-to-online brand experience, let's talk. Aquarius Design can help you create a meaningful connection with every shopper—every time.