Americans with Disabilities Act (ADA) Sets Standards for Accessible Design
As an owner of a business website, you take the time to think carefully about the site design and content, but have you ever stopped to consider if your site is ADA compliant? The Americans with Disabilities Act (ADA) sets a standard for accessible design, and if yours isn't fully compliant, you could find yourself facing a lawsuit.
At Aquarius Designs, we understand the ins and outs of web accessibility and our experts are here to ensure your website is 100% ADA compliant. Our web developers achieve this by following the W3C's (World Wide Web Consortium) Web Content Accessibility Guidelines 2.1 (WCAG 2.1).
MAKE SURE YOUR SITE IS ACCESSIBLE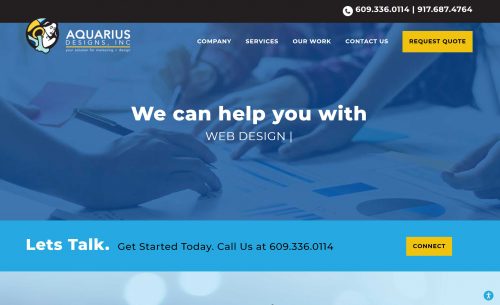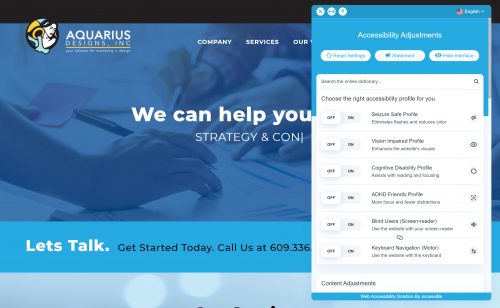 What Is Web Accessibility?
Web accessibility is a set of design rules, guidelines, and code standards that enable people with disabilities to use business websites effectively. The WCAG 2.1 focuses on three areas of accessibility:
Blind people using screen-readers (JAWS, NVDA)
People with motor impairments who use only keyboards
A variety of other disabilities, such as color blindness, epilepsy, and minor visual impairments that are focused on the user interface and design (fonts, color contrasts, animations, etc.).
While ADA website compliance is not yet mandatory, making sure yours meets all standards can protect your business from a lawsuit. Afterall, visually impaired website users have been filing lawsuits against businesses over accessibility issues, and many of them were winning.
ADD THIS SERVICE TO ANY EXISTING WEBSITE
How Aquarius Designs Can Help
When you partner with Aquarius, our skilled developers build you an agile website that addresses all forms of disabilities, including:
Audio captions for videos
Transcripts for those with auditory or cognitive issues
Clean, minimalist layouts for those with cognitive and learning disabilities
Larger buttons and customizable text to assist those with visual impairments
Customizable spacing, size, colors, and fonts
If we're building your site from scratch, your quote can include ADA-compliant designs. If we're working with your existing site, our team will perform a comprehensive site analysis and provide an estimate to fix compliance issues.
CLICK HERE FOR PRICING