Be Seen. Engage your Audience. Expand your Business.
How to Market Your Business with a Social Media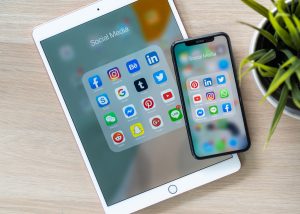 You know a lot about how to market your business, but have you put much thought or effort into social media ad management? If not, you're missing a major brand-building revenue stream. All the valuable creative content and data you already have can be leveraged to nurture loyal followers on Facebook, Twitter, LinkedIn, and more. And if you don't have those assets, we can create them for you! Aquarius can help you set up, design, and execute a social media campaign that's laser-targeted and immediately recognizable. With our team of paid digital experts, content strategists, data scientists, and designers, you'll deliver an engaging, click-worthy brand experience that builds relationships and grows your business.
Facebook Advertising
Instead of simply existing on Facebook, put your best face forward with laser-targeted ads based on audience interests, online behaviors, demographics, and much more.
LinkedIn Marketing
Grow your network, meet people looking to do business, and position yourself as a thought leader on this powerful B2B social media platform.
Twitter Advertising
Whether launching a new campaign or starting a conversation, connect with the people who matter most to your business on Twitter.
Industry-Specific Platforms
We know there's more to social than Twitter, LinkedIn, and Facebook advertising. If your interior design business should be on Houzz or your restaurant needs a good reputation on Yelp, feel confident knowing we work on hundreds of industry-specific social media platforms with proven success.
The Impact's in the Details
Once we help you launch your social media campaign, that's when the real fun starts. Our data-obsessed, paid social media team digs into the KPIs, tracks your spend, and monitors your ROI. We know it's about more than followers, likes, and comments—it's about meaningful connections and experiences. That's why we're constantly on the ball, optimizing your social media marketing dollars for the most substantial impact possible. Want to see how to market your business on social with serious impact? Schedule your Free Social Media Review today!
Let Us Walk You Through What Can Be Done. Get a Free Consultation.